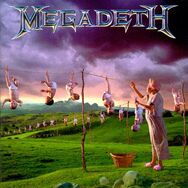 Youthanasia is the sixth studio album by American heavy metal band Megadeth, released on November 1, 1994 through Capitol Records. A remixed and remastered version, featuring several bonus tracks, was released in 2004.
It saw Megadeth continuing a trend toward slower, more melodic hard rock-styled songs which began with their commercial breakthrough album, Countdown to Extinction. Lyrically, the album displays a variety of influences: mythology ("Elysian Fields" and "Blood of Heroes"), rape and incest ("Family Tree"), nuclear war ("Black Curtains"), gambling ("Train of Consequences", which can also be seen on the video), and a hit about the last moments in life, "A Tout le Monde". The title is a pun on euthanasia, implying that society is euthanizing its youth, which would be consistent with bandleader and principal songwriter Dave Mustaine's views. The closing track, "Victory", refers to many of the band's previous songs throughout its lyrics.
Track listing
Edit
"Reckoning Day" - 4:34
"Train of Consequences" - 3:31
"Addicted to Chaos" - 5:26
"A Tout le Monde" - 4:28
"Elysian Fields" - 4:03
"The Killing Road" - 3:57
"Blood of Heroes" - 3:57
"Family Tree" - 4:07
"Youthanasia" - 4:09
"I Thought I Knew It All" - 3:44
"Black Curtains" - 3:39
"Victory" - 4:27
Personnel
Edit
Megadeth

Additional musician

Jimmie Wood – harmonica on "Train of Consequences" and "Elysian Fields"

Production

Produced and mixed by Max Norman and Dave Mustaine
Assistant engineer – Mike Tacci
2nd assistant engineer and drum technician – Bruce Jacoby
Guitar technician – Michael Kaye
Mastered by Bob Ludwig

2004 Remix and Remaster

Produced by Dave Mustaine
Mixed by Ralph Patlan and Dave Mustaine
Engineered by Ralph Patlan with Lance Dean
Edited by Lance Dean and Scott "Sarge" Harrison with Bo Caldwell
Mastered by Tom Baker
Ad blocker interference detected!
Wikia is a free-to-use site that makes money from advertising. We have a modified experience for viewers using ad blockers

Wikia is not accessible if you've made further modifications. Remove the custom ad blocker rule(s) and the page will load as expected.