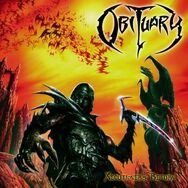 Xecutioner's Return is the seventh studio album by the American death metal band Obituary. The name is derived from Obituary's original band name, which was Xecutioner. It was released on August 28, 2007. It is also their first album since Cause of Death to be recorded without guitarist Allen West.
Track listing
Edit
"Face Your God" - 2:56
"Lasting Presence" - 2:12
"Evil Ways" - 2:57
"Drop Dead" - 3:35
"Bloodshot" - 3:25
"Seal Your Fate" - 2:30
"Feel the Pain" - 4:31
"Contrast the Dead" - 7:01
"Second Chance" - 3:28
"Lies" - 3:32
"In Your Head" - 4:31
"Executioner Returns" (Special Edition Box Set Bonus Track) - 3:42
Personnel
Edit
Ad blocker interference detected!
Wikia is a free-to-use site that makes money from advertising. We have a modified experience for viewers using ad blockers

Wikia is not accessible if you've made further modifications. Remove the custom ad blocker rule(s) and the page will load as expected.