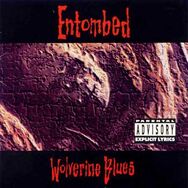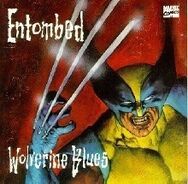 Wolverine Blues is the third album by Entombed, released in 1993 on Earache Records. The album marked a move away from their death metal roots to the more traditional hard rock and metal style they produced from this album onward called death 'n' roll .
One version of the album was released with Marvel Comics character Wolverine on the cover, although Entombed never wanted their album to be associated with the superhero. Earache Records, without the band's permission, had made a deal with Marvel in order to use Wolverine to promote the album to a more mainstream audience. This edition included a Wolverine mini-comic inside the CD booklet. The Marvel edition was also heavily edited, with the track "Out of Hand" being removed entirely. A limited number of early pressings of the album contained audio samples taken from films (most notably Flatliners and Hellraiser III) which were subsequently removed from later pressing due to record label fears of potential legal action over their unlicensed use. Beavis and Butt-head gave Wolverine Blues's music video a negative, and overall ignored, review. Guitar Magazine Guitar World labeled Wolverine Blues as "1994's best death metal effort and quite possibly the finest death metal album of this decade."
Track listing
Edit
"Eyemaster" - 3:21
"Rotten Soil" - 3:27
"Wolverine Blues" - 2:16
"Demon" - 3:22
"Contempt" - 4:34
"Full of Hell" - 3:24
"Blood Song" - 3:25
"Hollowman" - 4:29
"Heaven's Die" - 4:17
"Out of Hand" - 3:07
"State of Emergency" (Remastered with Bonus Track) - 2:35
Personnel
Edit
Entombed
Production
Ad blocker interference detected!
Wikia is a free-to-use site that makes money from advertising. We have a modified experience for viewers using ad blockers

Wikia is not accessible if you've made further modifications. Remove the custom ad blocker rule(s) and the page will load as expected.