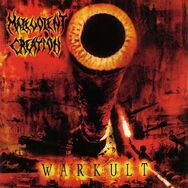 Warkult is the ninth studio album by American death metal band Malevolent Creation. It was released on July 27, 2004 via Nuclear Blast.
Track listing
Edit
"Dead March" - 2:48
"Preemptive Strike" - 4:07
"Supremacy Through Annihilation" - 3:34
"Murder Reigns" - 2:53
"Captured" - 3:45
"Merciless" - 2:34
"Section 8" - 5:21
"On Grounds of Battle" - 4:17
"Tyranic Oppression" - 4:24
"Ravaged By Conflict" - 2:09
"Shock and Awe" - 4:25
"Jack the Ripper" (Bonus Track; Hobbs' Angel of Death cover) - 3:18
Personnel
Edit
Malevolent Creation
Kyle Symons - Vocals
Phil Fasciana - Guitars
Rob Barett - Guitars
Phil Nickles - Guitars
Gordon Simms - Bass
Dave Culross - Drums
Production
Produced By Malevolent Creation & J.F. Dagenais
Recorded & Engineered By Phil Plaskon
Mixed By J.F. Dagenais
Ad blocker interference detected!
Wikia is a free-to-use site that makes money from advertising. We have a modified experience for viewers using ad blockers

Wikia is not accessible if you've made further modifications. Remove the custom ad blocker rule(s) and the page will load as expected.