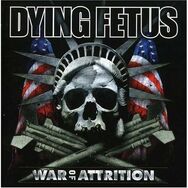 War of Attrition is the fifth album by American death metal band Dying Fetus. According to the album booklet, the album's lyrics were written solely by the guitarist Mike Kimball. This album was praised by original fans due to its return to traditional Dying Fetus form. It was also their first self-produced album in nine years.
Former co-vocalist Vince Matthews and former drummer Eric Seyanga departed in 2005 to form the band Covenance. Gallagher once again found a new member: drummer Duane Timlin. With this line-up, Gallagher promised to record what he called "our most brutal album yet".
It is perhaps Dying Fetus' most politically-influenced album, containing lyrics that tackled the "war on terror", reality TV, and the flaws in the American justice system.
Track listing
Edit
"Homicidal Retribution" - 5:29
"Fate Of The Condemned" - 4:41
"Raping The System" - 6:11
"Insidious Repression" - 3:32
"Unadulterated Hatred" - 4:47
"The Ancient Rivalry" - 3:41
"Parasites Of Catastrophe" - 4:12
"Obsolete Deterrence" - 4:13
Personnel
Edit
Ad blocker interference detected!
Wikia is a free-to-use site that makes money from advertising. We have a modified experience for viewers using ad blockers

Wikia is not accessible if you've made further modifications. Remove the custom ad blocker rule(s) and the page will load as expected.