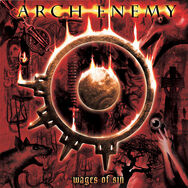 Wages of Sin is the fourth studio album by the Swedish melodic death metal band Arch Enemy. It is the first Arch Enemy album to feature the vocals of Angela Gossow. It is also the first album they use Standard-C tuning, which they still use today.
Track listing
Edit
"Enemy Within" - 4:21
"Burning Angel" - 4:17
"Heart of Darkness" - 4:52
"Ravenous" - 4:06
"Savage Messiah" - 5:18
"Dead Bury Their Dead" - 3:55
"Web of Lies" - 3:56
"The First Deadly Sin" - 4:20
"Behind the Smile" - 3:28
"Snow Bound" - 1:34
"Shadows and Dust" - 4:28
"Lament of a Mortal Soul" (bonus track) - 4:06
Personnel
Edit
Arch Enemy
Production
Ad blocker interference detected!
Wikia is a free-to-use site that makes money from advertising. We have a modified experience for viewers using ad blockers

Wikia is not accessible if you've made further modifications. Remove the custom ad blocker rule(s) and the page will load as expected.