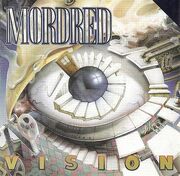 Vision
is
Mordred's
third release, although it is an E. P. rather than a full-length album, only having six songs.
"West County Hospital" starts with clean guitar and is slow to mid-paced power metal, being the sole metal entry on the album, as the rest of the songs are in the funk metal vein, as "In Time" is fast funk (mixed with some metal) with elements that sound like it belongs in the 1970s. "Close Minded" combines rap with power and funk metal, and "Vision" is fast funk, the vocals have an effect to them and they are buried in the mix.
The album was released in 1992 through Noise International Inc. and Futurist.
Track list
Edit
Personnel
Edit
Aaron (Pause) Vaughn does the vocals on "Close Minded".
Ad blocker interference detected!
Wikia is a free-to-use site that makes money from advertising. We have a modified experience for viewers using ad blockers

Wikia is not accessible if you've made further modifications. Remove the custom ad blocker rule(s) and the page will load as expected.