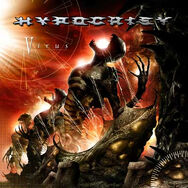 Virus is the tenth studio album that was released on September 19, 2005 by death metal band Hypocrisy. A video was made for the song "Scrutinized".
Early pressings of the CD came with a thirteen-song limited edition live DVD, with 12 songs recorded in Strasbourg on Hypocrisy's 2004 tour as support of Cannibal Corpse, and from a different show they play the song Total Disaster by Destruction along with the band's vocalist/bass player Marcel 'Schmier' Schirmer. Some cds also feature a bonus track, "Watch Out", which appears to be a demo of a song recorded in 2000.
Some early pressings have an error where a scratch sound can be heard on tracks 6 and 11. Nuclear Blast has stated they will mail a replacement disc to anyone who has one of these glitched discs. See Hypocrisy's official website for more details on the issue.
Track listing
Edit
"XVI" - 0:16
"War-Path" - 4:23
"Scrutinized" - 4:25
"Fearless" - 4:24
"Craving for Another Killing" - 3:50
"Let the Knife Do the Talking" - 4:15
"A Thousand Lies" - 4:52
"Incised Before I've Ceased" - 4:28
"Blooddrenched" - 3:42
"Compulsive Psychosis" - 4:14
"Living to Die" - 5:42
"Watch Out (demo)" (Japanese bonus track) - 3:34
Personnel
Edit
Hypocrisy
Production
Recorded at Abyss Studio November-December 2004
Produced and mixed by Peter Tägtgren
Engineered by Hypocrisy
Mastered in Cuttingroom by Bjorn Engelmann
Songwriting and composition
Solo on "Scrutinized" performed by Gary Holt.
Ad blocker interference detected!
Wikia is a free-to-use site that makes money from advertising. We have a modified experience for viewers using ad blockers

Wikia is not accessible if you've made further modifications. Remove the custom ad blocker rule(s) and the page will load as expected.