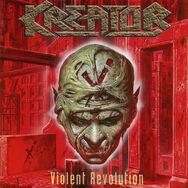 Violent Revolution is the tenth studio album by the German thrash metal band Kreator. It was released on September 25, 2001. After almost a decade of musical experimentation with their metal sound (starting with Renewal), with this album the band returned to their 80s thrash metal style, although it does make use of melodic Gothenburg metal elements.
Track listing
Edit
"Reconquering the Throne" 4:13
"The Patriarch" 0:52
"Violent Revolution" 4:55
"All of the Same Blood (Unity)" 6:12
"Servant in Heaven - King in Hell" 5:10
"Second Awakening" 4:48
"Ghetto War" 5:05
"Replicas of Life" 7:34
"Slave Machinery" 3:58
"Bitter Sweet Revenge" 5:25
"Mind on Fire" 3:57
"System Decay" 4:33
Personnel
Edit
Kreator
Production
Andreas Marshall - Cover Painting
Tommy Newton - Engineer
Dirk Schelpmeier - Design, Photography
Andy Sneap - Producer, Engineer, Mastering, Mixing
Ad blocker interference detected!
Wikia is a free-to-use site that makes money from advertising. We have a modified experience for viewers using ad blockers

Wikia is not accessible if you've made further modifications. Remove the custom ad blocker rule(s) and the page will load as expected.