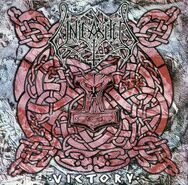 Victory is the fourth studio album by the Swedish death metal band, Unleashed. It was released in 1995 on Century Media Records.
Track listing
Edit
"Victims of War" - 4:13
"Legal Rapes" - 3:10
"Hail the New Age" - 3:09
"The Defender" - 3:19
"In the Name of God" - 3:44
"Precious Land" - 5:00
"Berserk" - 1:55
"Scream Forth Aggression" - 3:54
"Against the World" - 3:00
"Revenge" - 2:36
Personnel
Edit
Johnny Hedlund - vocals, bass
Fredrik Lindgren - guitar
Tomas Olsson - guitar
Anders Schultz - drums
Ad blocker interference detected!
Wikia is a free-to-use site that makes money from advertising. We have a modified experience for viewers using ad blockers

Wikia is not accessible if you've made further modifications. Remove the custom ad blocker rule(s) and the page will load as expected.