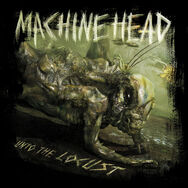 Unto the Locust is the seventh full-length studio album by an American heavy metal band Machine Head, released in Australia on September 23, in the UK on September 26 and worldwide on September 27, 2011. The album was produced and mixed by Robb Flynn. Unto the Locust was recorded in Green Day's Jingletown Studios. On June 14, 2011, Machine Head released the "advance mix" of their album track "Locust", which was included on the 2011 Mayhem Festival iTunes sampler.
Track listing
Edit
"I Am Hell (Sonata in C#)" - 8:25
"Be Still and Know" - 5:43
"Locust" - 7:36
"This Is the End - 6:05
"Darkness Within" - 6:28
"Pearls Before the Swine" - 7:19
"Who We Are" - 7:11
Personnel
Edit
Machine Head
Production
Robb Flynn – production
Juan Urteaga – mixing
Ad blocker interference detected!
Wikia is a free-to-use site that makes money from advertising. We have a modified experience for viewers using ad blockers

Wikia is not accessible if you've made further modifications. Remove the custom ad blocker rule(s) and the page will load as expected.