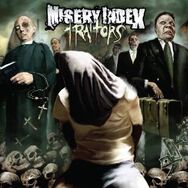 Traitors is the third studio album by American deathgrind band Misery Index. It was engineered and produced by Kurt Ballou and released through Relapse Records on September 30, 2008. A video was released for the song "Traitors".
Track listing
Edit
"We Never Come in Peace" (Adam Jarvis, Jason Netherton) – 1:59
"Theocracy" (Jarvis, Sparky Voyles) – 4:30
"Partisans of Grief" (Jarvis, Mark Klöppel) – 3:36
"Traitors" (Jarvis, Klöppel) – 2:23
"Ghosts of Catalonia" (Jarvis, Klöppel) – 5:00
"Occupation" (Jarvis, Netherton) – 4:43
"Ruling Class Cancelled" (Jarvis, Klöppel) – 2:07
"The Arbiter" (Jarvis, Klöppel) – 2:02
"American Idolatry" (Jarvis, Netherton) – 2:19
"Thrown into the Sun" (Jarvis, Klöppel) – 3:58
"Black Sites" (Jarvis, Voyles) – 4:44
Personnel
Edit
Ad blocker interference detected!
Wikia is a free-to-use site that makes money from advertising. We have a modified experience for viewers using ad blockers

Wikia is not accessible if you've made further modifications. Remove the custom ad blocker rule(s) and the page will load as expected.