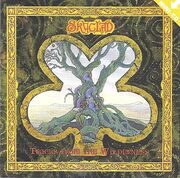 This was the third release from
Skyclad
, an E. P. with three new studio tunes, which were recorded in August, 1992, and three live tracks, which were played faster than their studio originals ("
The Declaration of Indifference
" and "
Spinning Jenny
" which originally appeared on their second album of
A Burnt Offering For The Bone Idol
, and "
Skyclad
" came from their debut of
The Wayward Sons of Mother Earth
) and were recorded at the Dynamo Festival Eindhoven, in June, 1992.
As far as the studio tunes went, "Emerald" (a cover) is a mid-paced power metal song and has a lot of harmonizing between the guitar and violin during its course, with dueling guitar solos near the end. "A Room Next Door" has clean guitar and vocalist Martin Walkyier sings (which he usually performs in growls) the majority of the song before it changes to power metal, not having any folk to it at all unlike Skyclad's previous release did, which "When All Else Fails" doesn't either, being mostly thrash metal with a few tempo changes and the like.
The E. P. was released by Noise International Inc. in 1992.
Track list
Edit
Personnel
Edit
The Wayward Sons of Mother Earth, Skyclad's debut, was released in the United States, but until they became available through mail order companies of Century Media and the like, their second and third albums were not released in the States, although their fourth album of Prince of the Poverty Line was. Once that was released, the three studio tracks on this E. P. were added as bonus tracks to the States version of ...Poverty Line.
Is it happens a lot with playing live, song structure can differ, as the main solo on"Skyclad" was changed, as well as the end with the fiddle was omitted.
Ad blocker interference detected!
Wikia is a free-to-use site that makes money from advertising. We have a modified experience for viewers using ad blockers

Wikia is not accessible if you've made further modifications. Remove the custom ad blocker rule(s) and the page will load as expected.