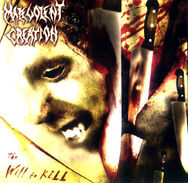 The Will to Kill is the eighth studio album by American death metal band Malevolent Creation. The album was released on November 12, 2002.
Track listing
Edit
"The Will to Kill" - 3:58
"Pillage and Burn" - 2:21
"All That Remains" - 3:55
"With Murderous Precision" - 3:49
"Lifeblood" - 3:31
"Assassin Squad" - 3:05
"Rebirth of Terror" - 3:34
"Superior Firepower" - 3:34
"Divide and Conquer" - 4:58
"The Cardinal's Law" - 5:18
"Burnt Beyond Recognition" - 3:30
Personnel
Edit
Ad blocker interference detected!
Wikia is a free-to-use site that makes money from advertising. We have a modified experience for viewers using ad blockers

Wikia is not accessible if you've made further modifications. Remove the custom ad blocker rule(s) and the page will load as expected.