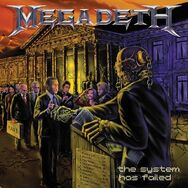 The System Has Failed is the tenth studio album released by the American heavy metal band Megadeth. It was released on September 14, 2004, is the second and final Megadeth album released by Sanctuary Records and is the first studio release since the band's dissolution in 2002 and subsequent reformation two years later. The System Has Failed was the first of three Megadeth albums not to include original bassist and co-founder David Ellefson. The album has former Megadeth guitarist Chris Poland on lead guitar. However, Poland only provided lead guitar parts and solos on a contractual basis and did not rejoin the band. This is the first and only album to have Vinnie Colaiuta on drums and Jimmie Lee Sloas on bass.
Three singles were released from the album: "Die Dead Enough", "Of Mice and Men" and "The Scorpion", the latter being released as a single but not receiving a video.
Track listing
Edit
"Blackmail the Universe" - 4:33
"Die Dead Enough" - 4:18
"Kick the Chair" - 3:57
"The Scorpion" - 5:59
"Tears in a Vial" - 5:22
"I Know Jack" - 0:40
"Back in the Day" - 3:28
"Something That I'm Not" - 5:07
"Truth Be Told" - 5:40
"Of Mice and Men" - 4:05
"Shadow of Deth" (lyrics: Psalm 23, credited to David) - 2:15
"My Kingdom" - 3:04
Personnel
Edit
Studio session musicians

Chris Poland – lead guitar on all tracks except "I Know Jack"

Bonus track "Strange Ways"

Additional performers

Tim Akers – keyboards
Darien Bennett – voice of the General on "Blackmail the Universe"
Eric Darken – percussion
Michael Davis – sound effects
Lance Dean – additional vocals
Scott Harrison – additional vocals
Charlie Judge – keyboards
Celeste Amber Montague – voice of the Reporter on "Blackmail the Universe"
Justis Mustaine – background spoken part
Ralph Patlan – voice of the Politician on "Blackmail the Universe", additional vocals
Robert Venable – additional vocals
Jonathan Yudkin – strings, banjo

Production

Produced and recorded by Jeff Balding and Dave Mustaine
Mixed by Jeff Balding
Assisted by David Bryant, Ralph Patlan, Scott Kidd, Jesse Amend, Lance Dean, and Jed Hackett
Additional recording by David Bryant, Jed Hackett, and John Saylor
Mastered by Adam Ayan
Digital editing by Mark Hagen and Jed Hackett
Production coordination by Mike "Frog" Griffith
Cover art by Mike Learn, based on a concept by Dave Mustaine
Design by t42design
Ad blocker interference detected!
Wikia is a free-to-use site that makes money from advertising. We have a modified experience for viewers using ad blockers

Wikia is not accessible if you've made further modifications. Remove the custom ad blocker rule(s) and the page will load as expected.