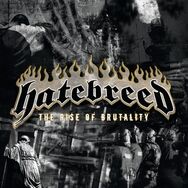 The Rise of Brutality is the third album by American hardcore punk band Hatebreed. It was released on October 28, 2003 by Universal Records.
"This is Now" proved to be the album's first single, frequently being played on MTV2's Headbangers Ball, a program which vocalist Jamey Jasta often hosted. The song was also included on the first MTV2 Headbangers Ball compilation album that same year. A second single would be found in "Live for This," with its music video dedicated to a deceased friend of the band. The song "Another Day, Another Vendetta," greatly samples the song "Just Look Around," by Sick of it All, borrowing the first verse.
The first song, "Tear It Down" is an extended version of the song "Outro" from the previous album Perseverance
Track listing
Edit
"Tear It Down" – 1:47
"Straight to Your Face" – 2:17
"Facing What Consumes You" – 3:29
"Live for This" – 2:50
"Doomsayer" – 3:23
"Another Day, Another Vendetta" – 3:05
"A Lesson Lived is a Lesson Learned" – 2:03
"Beholder of Justice" – 2:44
"This is Now" – 3:36
"Voice of Contention" – 2:27
"Choose or Be Chosen" – 1:39
"Confide in No One" – 2:38
"Bound to Violence" (UK Bonus Track) – 2:23
All songs by Hatebreed unless otherwise stated.
Personnel
Edit
Hatebreed
Production
George Marino - Mastering
Philip Caivano - Assistant, Guitar Technician
Michael Sullivan - Studio Production Coordinator
Zeuss - Producer, Engineer
Rob Gil - Digital Editing, Assistant
Misha Rajaratnam - Assistant
Sinji Suzuki - A&R
Michael "Sully DaBull" Sullivan - Studio Production Coordinator
Steve Richards - Executive Producer
Michael Fraser - Mixing
Album - Billboard (North America)
| Year | Chart | Position |
| --- | --- | --- |
| 2003 | The Billboard 200 | 30 |
References
Edit
Ad blocker interference detected!
Wikia is a free-to-use site that makes money from advertising. We have a modified experience for viewers using ad blockers

Wikia is not accessible if you've made further modifications. Remove the custom ad blocker rule(s) and the page will load as expected.