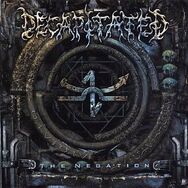 The Negation is the third studio album by the death metal band Decapitated from Poland. It was released March 9, 2004, through Earache Records.
Track listing
Edit
"The Fury" - 4:26
"Three-Dimensional Defect" - 3:57
"Lying and Weak" - 3:25
"Sensual Sickness" - 4:05
"The Calling" (Instrumental) - 1:17
"The Negation" - 5:04
"Long-Desired Dementia" - 3:21
"The Empty Throne" - 4:41
"Lunatic of God's Creation" (Bonus track, Deicide cover) - 2:34
Personnel
Edit
Decapitated
Production
Producer – Slawek Wieslawski, Vojtek Wieslawski, Decapitated
Jacek Wiśniewski – cover art
Ad blocker interference detected!
Wikia is a free-to-use site that makes money from advertising. We have a modified experience for viewers using ad blockers

Wikia is not accessible if you've made further modifications. Remove the custom ad blocker rule(s) and the page will load as expected.