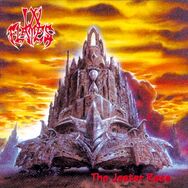 The Jester Race is the second album by melodic death metal band In Flames. It is the first album to feature Anders Fridén as the band's vocalist and Björn Gelotte as the drummer. A video for the song "Artifacts of the Black Rain" was also released. It was also the first album to feature the Jesterhead, the band's mascot.
After releasing The Jester Race, the band then toured with Samael, Grip Inc. and Kreator. The album was the band's second full-length album released following the more mainstream success of the 1994 EP, Subterranean. The Jester Race was recorded at Studio Fredman by Fredrik Nordström, who also contributed keyboards for the album.
The Jester Race is considered one of the greatest metal albums of all time. It ranked #79 on the website Metal Rules' list of 100 Greatest Metal Albums. It is also considered a classic album of the Gothenburg style of metal, along with At the Gates' Slaughter of the Soul and Dark Tranquillity's The Gallery, exhibiting the dual guitar leads, growled vocals and acoustic sections typical of the genre.
The song "Dead Eternity" is a re-recorded version of the song from Subterranean. "Dead God in Me" is also a re-recorded version of a song from Subterranean, although the song is named "The Inborn Lifeless" on the EP, only runs to 3:23 minutes and has different lyrics to "Dead God in Me".
Track listing
Edit
"Moonshield" - 5:02
"The Jester's Dance" (Instrumental) - 2:09
"Artifacts of the Black Rain" - 3:15
"Graveland" - 2:47
"Lord Hypnos" - 4:01
"Dead Eternity" - 5:02
"The Jester Race" - 4:51
"December Flower" - 4:11
"Wayfaerer" (Instrumental) - 4:41
"Dead God in Me" - 4:16
Personnel
Edit
In Flames
Guest appearances
Production and composition
Ad blocker interference detected!
Wikia is a free-to-use site that makes money from advertising. We have a modified experience for viewers using ad blockers

Wikia is not accessible if you've made further modifications. Remove the custom ad blocker rule(s) and the page will load as expected.