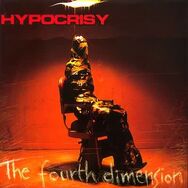 The Fourth Dimension is the third studio album by Swedish melodic death metal band Hypocrisy on October 25, 1994.
Track listing
Edit
"Apocalypse" - 5:55
"Mind Corruption" - 3:50
"Reincarnation" - 3:48
"Reborn" - 3:06
"Black Forest" - 4:23
"Never to Return" - 4:08
"Path to Babylon" - 3:43
"Slaughtered" - 5:39
"Orgy in Blood" - 3:20
"The North Wind" - 3:45
"T.E.M.P.T." - 3:19
"The Fourth Dimension" - 5:51
"The Arrival of the Demons (Part 1)" - 1:50
"The Abyss" (limited edition digipak, non-reissue release) - 4:38
"Request Denied" (digipak re-release)
"Strange Ways" (digipak re-release)
Personnel
Edit
Hypocrisy
Production
Produced and mixed by Peter Tägtgren
Engineered by Gunnar Silins
Mastered by Gunnar Silins, at Park Studio, Stockholm
Photos, art and design by P Grøn, Sweden
Executive producer M. Staiger
Ad blocker interference detected!
Wikia is a free-to-use site that makes money from advertising. We have a modified experience for viewers using ad blockers

Wikia is not accessible if you've made further modifications. Remove the custom ad blocker rule(s) and the page will load as expected.