The Black Crown is the third full-length album by deathcore band Suicide Silence, which was released July 12, 2011 through Century Media Records. With anticipation for their third full-length after the release of No Time to Bleed, Suicide Silence prepared recording for The Black Crown on a course of several months starting from the beginning of 2010 with writing ideas and plans before their arrival to the studio for recording in 2011. The album was produced by Steve Evetts. It is the last album by the band with vocalist Mitch Lucker before his death on November 1, 2012.
Track listing
Edit
"Slaves to Substance" - 3:28
"O.C.D." - 3:20
"Human Violence" - 3:48
"You Only Live Once" - 3:13
"Fuck Everything" - 4:34
"March to the Black Crown" - 1:31
"Witness the Addiction" (featuring Jonathan Davis of Korn) - 5:32
"Cross-Eyed Catastrophe" (featuring Alexia Rodriguez of Eyes Set to Kill) - 3:25
"Smashed" (featuring Frank Mullen of Suffocation) - 3:07
"The Only Thing That Sets Us Apart" - 4:11
"Cancerous Skies" - 3:15
Personnel
Edit
Suicide Silence

Chris Garza – rhythm guitar
Mark Heylmun – lead guitar
Dan Kenny – bass guitar
Alex Lopez – drums
Mitch Lucker – vocals

Production

Production and engineering by Steve Evett
Mixing by Chris "Zeuss" Harris at Planet Z Studios, Hadley, Massachusetts
Additional engineering by Allan Hessler
Recorded at The Omen Room Studios, Garden Grove, California
Management by Jerry Clubb for Ricochet Management
A&R by Steve Joh pf Century Media
Artwork and layout by Ken Adams
Sound design and programming by Clinton Bradley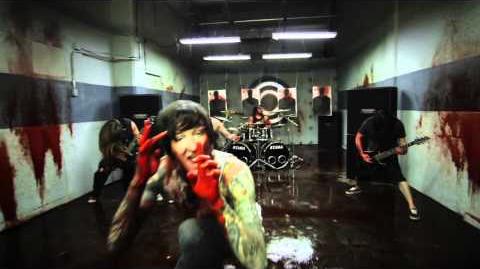 Ad blocker interference detected!
Wikia is a free-to-use site that makes money from advertising. We have a modified experience for viewers using ad blockers

Wikia is not accessible if you've made further modifications. Remove the custom ad blocker rule(s) and the page will load as expected.