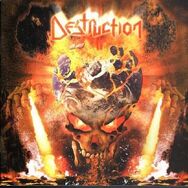 The Antichrist is the seventh album by the German thrash metal band Destruction. It was released on September 18, 2001. Track order on the back of the CD case is wrong but the order below is correct.
Track listing
Edit
NOTE: Some versions of the album have "Thrash Till Death" as track 3, "Nailed to the Cross" as track 4 and "Dictators of Cruelty" as track 2. The track list shown below is the most commonly found version of the album.
ADDITIONAL NOTE: The limited edition has 66 tracks. Tracks 12 to 65 are blank tracks. Track 66 is a re-recorded 2001 version of "Curse the Gods" (5:26).
"Days of Confusion" - 0:49
"Thrash Till Death" - 4:23
"Nailed to the Cross" - 3:46
"Dictators of Cruelty" - 4:31
"Bullets from Hell" - 5:06
"Strangulated Pride" - 3:27
"Meet Your Destiny" - 4:02
"Creations of the Underworld" -3:54
"Godfather of Slander" - 4:09
"Let Your Mind Rot" - 4:15
"The Heretic" - 3:41
"Curse The Gods 2001" (Bonus Track) - 5:26
Personnel
Edit
Marcel Schirmier: Vocals, Bass
Mike Sifringer: All Guitars
Marc Reign: Drums
Production
Edit
Produced, Recorded, Engineered & Mixed By Peter Tagtgren & Lars Szoke
Ad blocker interference detected!
Wikia is a free-to-use site that makes money from advertising. We have a modified experience for viewers using ad blockers

Wikia is not accessible if you've made further modifications. Remove the custom ad blocker rule(s) and the page will load as expected.