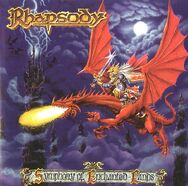 Symphony of Enchanted Lands is the second studio album released by Rhapsody of Fire in 1998. It is the second album of the Emerald Sword Saga.
Track listing
Edit
All songs, vocal lines and classical interludes composed by Luca Turilli and Alex Staropoli
All lyrics and emerald sword saga written by Luca Turilli
Orchestral arrangements by Alex Staropoli
"Epicus Furor" – 1:15
"Emerald Sword" – 4:21
"Wisdom of the Kings" – 4:29
"Heroes of the Lost Valley" – 2:04

I. "Entering the Waterfalls Realm"
II. "The Dragons Pride"

"Eternal Glory" – 7:29
"Beyond the Gates of Infinity" – 7:23
"Wings of Destiny" – 4:28
"The Dark Tower of Abyss" – 6:47
"Riding the Winds of Eternity" – 4:13
"Symphony of Enchanted Lands" – 13:17

I. "Tharos' Last Flight"
II. "The Hymn of The Warrior"
III. "Rex Tremende"
IV. "The Immortal Fire"
Personnel
Edit
Rhapsody
Guest musicians
Sascha Paeth - acoustic guitars, mandolin, balalaika
Don Kosaken - Russian choirs
Helmstedter Kammerchor, conducted by Andreas Lamken - sacred choirs
Thomas Rettke, Robert Hunecke-Rizzo, Ricky Rizzo, Cinzia Rizzo, Tatiana Blocn, Davide Calabrese, Michele Mayer, Giuliano Tarlon, Cristiano Adacher, Manuel Staropoli, Fabio Lione, Alex Staropoli, Luca Turilli - choirs
Constanze Backes - female baroque voice on "Symphony of Enchanted Lands"
Sir Jay Lansford - Narrator spoken parts
Erik Steenbock - marching drums
Manuel Staropoli - baroque recorders & baroque oboe
Mattnias Brommann - lead violin
Claas Harders - viola da gamba
Ulrike Wildenhof, Almut Schlicker, Stefanie Holk, Friedrike Bauer, Matthias Brommann - violins
Marie-Theres Strumpf, Cosima Bergk, Jan Larsen - violas
Hagen Kuhr - cello
Andre Neygenfind - contrabass
Stefan Horz - harpsichord
Production
Produced by Sascha Paeth and Miro.
Engineered, mixed and mastered by Sascha Paeth and Miro at Gate Studio in Wolfsburg, Germany
All Artwork by: Eric Philippe
Photography by: Karsten Koch, Hannover
Ad blocker interference detected!
Wikia is a free-to-use site that makes money from advertising. We have a modified experience for viewers using ad blockers

Wikia is not accessible if you've made further modifications. Remove the custom ad blocker rule(s) and the page will load as expected.