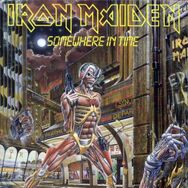 Somewhere in Time is the sixth studio album by British heavy metal band Iron Maiden, released on 29 September 1986 on EMI in Europe and its sister label Capitol Records in the US (it was re-released by Sanctuary/Columbia Records in the US in 1998). The studio follow-up to the hugely successful Powerslave/Live After Death pair, it was the first Iron Maiden album to feature guitar synthesizers.
Since its release, it has been certified platinum by the RIAA, having sold over 1,000,000 copies in the U.S. alone.
Somewhere On Tour was the release's supporting tour.
Track listing
Edit
"Caught Somewhere in Time" - 7:26
"Wasted Years" - 5:08
"Sea of Madness" - 5:42
"Heaven Can Wait" - 7:21
"The Loneliness of the Long Distance Runner" - 6:31
"Stranger in a Strange Land" - 5:44
"Deja-Vu" - 4:56
"Alexander the Great" - 8:36
Personnel
Edit
Iron Maiden
Production
Martin Birch – producer, engineer, mixing, tape operator
Albert Boekholt – engineer, assistant engineer
Ronald Prent – engineer, assistant engineer
Ad blocker interference detected!
Wikia is a free-to-use site that makes money from advertising. We have a modified experience for viewers using ad blockers

Wikia is not accessible if you've made further modifications. Remove the custom ad blocker rule(s) and the page will load as expected.