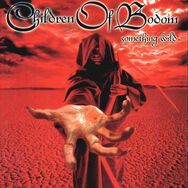 Something Wild is the debut album by Finnish melodic death metal band Children of Bodom, released in 1997.
The album presents a darker and generally more experimental sound than the one present in their later albums, and contributed most to the infamous genre controversy of their classification as a death metal or black metal band at the time. A fair helping of black metal was still present, due to Alexi Laiho's stint (as lead guitarist) in Impaled Nazarene and his self-professed "roots being in black metal".
In a recent interview Laiho claims that the band at the time were inspired by "a lot of black and death metal bands" such as Dissection and Hypocrisy as well as classic rock/metal bands like the Scorpions, and that many other new bands in the scene were "trying to sound like Dimmu Borgir", leading to them wanting to do something "different". Laiho had gone on to consider the album their "most important", as it "put us on the map".
The song-writing here is much more free-flowing and the use of keyboards and strong neo-classical metal influences are much more prevalent than they would be in future releases such as Hatebreeder or Follow the Reaper.
The "Deluxe Edition" was released much later in 2002 and includes bonus material.
Track listing
Edit
"Deadnight Warrior" - 3:22
"In The Shadows" - 6:01
"Red Light In My Eyes, Pt. 1" - 4:28
"Red Light In My Eyes, Pt. 2" - 3:50
"Lake Bodom" - 4:02
"The Nail" - 6:18
"Touch Like Angel Of Death" (song ends at 4:05 followed by silence and then a 1:20 second long keyboard outro) - 7:20
Personnel
Edit
Children of Bodom
Production
Produced by Anssi Kippo, Alexi Laiho, Jaska Raatikainen, and Children of Bodom
Recorded and mixed by Anssi Kippo
Assistant engineer – Jokke Ryhanen
Assistant mixing engineer – Pasi Karppa
Cover photo by Graham French
Band photography by Toni Harkonen
Cover artwork by Flea Black
Ad blocker interference detected!
Wikia is a free-to-use site that makes money from advertising. We have a modified experience for viewers using ad blockers

Wikia is not accessible if you've made further modifications. Remove the custom ad blocker rule(s) and the page will load as expected.