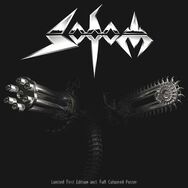 Sodom is the eleventh album by the German thrash metal band Sodom, released on 21 April 2006. The first pressing was in a slipcase and includes a full-colour poster of the artwork. "The album is self-titled," Angelripper explains, "because every band needs a self-titled album."
Track listing
Edit
"Blood on your Lips" – 4:43
"Wanted Dead" – 3:58
"Buried in the Justice Ground" – 3:09
"City of God" – 4:36
"Bibles and Guns" – 3:32
"Axis of Evil" – 4:36
"Lords of Depravity" – 2:48
"No Captures" – 4:47
"Lay Down the Law" – 3:57
"Nothing to Regret" – 2:54
"The Enemy Inside" – 4:06
"Kamikaze Terrorizer" (bonus track on the Japanese edition)
Personnel
Edit
Tom Angelripper - bass guitar, vocals
Bernemann - guitars
Bobby Schottkowski - drums
Ad blocker interference detected!
Wikia is a free-to-use site that makes money from advertising. We have a modified experience for viewers using ad blockers

Wikia is not accessible if you've made further modifications. Remove the custom ad blocker rule(s) and the page will load as expected.