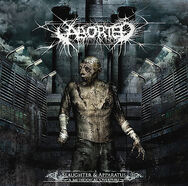 Slaughter & Apparatus: A Methodical Overture is the fifth album by death metal band Aborted. David Haley from Psycroptic was the featured drummer for the release.
Japanese copies contain the bonuses "Slaughtered" and "Surprise! You're Dead!", which are covers originally by Pantera and Faith No More respectively.
Track listing
Edit
"The Chondrin Enigma" - 4:20
"A Methodical Overture" - 3:25
"Avenious" - 4:41
"The Spaying Séance" - 4:25
"And Carnage Basked In Its Ebullience" - 3:10
"The Foul Nucleus Of Resurrection" - 4:13
"Archetype: Malice & Scorn" - 3:12
"Ingenuity In Genocide" - 3:42
"Odious Emanation" - 3:37
"Prolific Murder Contrivance" - 3:07
"Underneath Rorulent Soil" - 4:51
Personnel
Edit
Aborted
Sven "Svencho" de Caluwé – vocals
Sebastien "Seb Purulator" Tuvi – guitars
Matty Dupont – guitars
Peter Goemaere – bass
David Haley – session Drummer
Guest musicians
Ad blocker interference detected!
Wikia is a free-to-use site that makes money from advertising. We have a modified experience for viewers using ad blockers

Wikia is not accessible if you've made further modifications. Remove the custom ad blocker rule(s) and the page will load as expected.