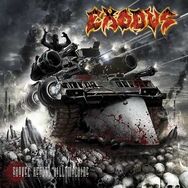 Shovel Headed Kill Machine is the seventh studio album by the American thrash metal band Exodus, released on October 4, 2005 through Nuclear Blast. This album contains a huge shift in the lineup for Exodus. This is the first album to feature new vocalist Rob Dukes, after the departure of Steve Souza, debut of Lee Altus on guitars, after Rick Hunolt's departure, and is also the only Exodus album to feature Paul Bostaph on drums after Tom Hunting's second departure.
Track listing
Edit
All songs by Gary Holt unless stated.
"Raze" (Dukes, Holt) - 4:17
"Deathamphetamine" – 8:31
"Karma's Messenger" (Dukes, Holt) - 4:14
"Shudder to Think" – 4:48
"I Am Abomination" – 3:25
"Altered Boy" – 7:37
"Going Going Gone" – 4:59
"Now Thy Death Day Come" – 5:11
".44 Magnum Opus" – 6:56
"Shovel Headed Kill Machine" – 2:57
Note: Limited digipak edition of the album contains a bonus track "Purge the World". Japanese edition of the album contains another bonus song, "Problems", which is a Sex Pistols cover. Limited 2 LP edition contains these both tracks.
Personnel
Edit
Rob Dukes – vocals
Gary Holt – guitar
Lee Altus – guitar
Jack Gibson – bass
Paul Bostaph – drums
Produced by Gary Holt
Engineered by Jason Urteage
Recorded at Trident Studio
Mixed and Mastered by Andy Sneap at Backstage Studios in Derby, UK
Management: Steven Warner
A&R: Jaap Wagemaker
Ad blocker interference detected!
Wikia is a free-to-use site that makes money from advertising. We have a modified experience for viewers using ad blockers

Wikia is not accessible if you've made further modifications. Remove the custom ad blocker rule(s) and the page will load as expected.