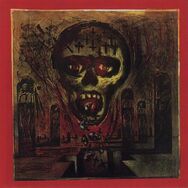 Seasons in the Abyss is the second studio album by the thrash metal band Slayer. It was released on October 9, 1990 through Def American Records.
Track listing
Edit
"War Ensemble" - 4:54
"Blood Red" - 2:50
"Spirit in Black" - 4:07
"Expendable Youth" - 4:10
"Dead Skin Mask" - 5:20
"Hallowed Point" - 3:24
"Skeletons of Society" - 4:41
"Temptation" - 3:26
"Born of Fire" - 3:07
"Seasons in the Abyss" - 6:42
Personnel
Edit
Slayer
Jeff Hanneman – guitars
Kerry King – guitars, backing vocals in "Seasons in the Abyss"
Dave Lombardo – drums
Production
Rick Rubin – production
Andy Wallace – production, engineering, mixing
Chris Rich – assistant engineer
David Tobocman – assistant engineer
Allen Abrahamson – assistant engineer
Robert Fisher – graphic design
Rick Sales – management
Howie Weinberg – mastering
Sunny Bak – photography
Marty Temme – photography
Ad blocker interference detected!
Wikia is a free-to-use site that makes money from advertising. We have a modified experience for viewers using ad blockers

Wikia is not accessible if you've made further modifications. Remove the custom ad blocker rule(s) and the page will load as expected.