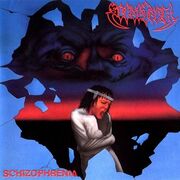 Schizophrenia is the debut studio album by Brazilian heavy metal band Sepultura, released in October 30, 1987 through Cogumelo Records. It is the first album of the band with Andreas Kisser. The album's sound leans more towards the thrash metal genre than the previous album Morbid Visions, which is closer to death metal. All songs were recorded during August 1987, except for the bonus track "Troops of Doom" which was recorded during August 26–27, 1990.
Track listing
Edit
"Intro" - 0:31
"From the Past Comes the Storms" - 4:55
"To the Wall" - 5:36
"Escape to the Void" - 4:38
"Inquisition Symphony" - 7:13
"Screams Behind the Shadows" - 4:48
"Septic Schizo" - 4:31
"The Abyss" - 1:01
"R.I.P. (Rest in Pain)" - 4:36
"Troops of Doom" - 3:17
"The Past Reborns the Storms (Demo Version)" - 5:08
"Septic Schizo (Rough Mix)" - 4:34
"To the Wall (Rough Mix)" - 5:31
Personnel
Edit
Sepultura
Productions
Tarso Senra - engineer
Gauguim - engineer on track 10
Scott Burns - mixing on track 10
Henrique - synthesizers
Paulo Gordo - violins
Fabiana - photography
Jeff Daniels - record producer (reissue)
George Marino - remastering (reissue)
Don Kaye - liner notes (reissue)
Ad blocker interference detected!
Wikia is a free-to-use site that makes money from advertising. We have a modified experience for viewers using ad blockers

Wikia is not accessible if you've made further modifications. Remove the custom ad blocker rule(s) and the page will load as expected.