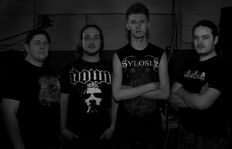 Sanctorum is an English Groove Metal band from Colchester, Essex, they formed in 2002. The band has released two studio albums and one EP. They are currently signed to Corpo Records.
Aaron Sly - Vocals & Guitar
Discography
Edit
Sanctorum have released the following:
The first EP released in 2004.
Sanctorum's debut album released in 2006.
The second studio album released in 2008.
Ad blocker interference detected!
Wikia is a free-to-use site that makes money from advertising. We have a modified experience for viewers using ad blockers

Wikia is not accessible if you've made further modifications. Remove the custom ad blocker rule(s) and the page will load as expected.