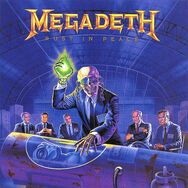 Rust in Peace is the fourth studio album by American heavy metal band Megadeth. Released on September 24, 1990, it was the third Megadeth album distributed through Capitol Records. The album was the band's only collaboration with record producer Mike Clink who was the first producer to successfully produce a Megadeth album from start to finish, without being fired. It was the first album to feature guitarist Marty Friedman and drummer Nick Menza, following the firing of both Jeff Young and Chuck Behler in 1989.
There are nine tracks on the album, with lyrics inspired by subjects ranging from nuclear fallout, war, religion, Area 51 and fantasy. Two singles were released from the album: "Hangar 18" and "Holy Wars... The Punishment Due", which have become staples of the band's live performances. Rust in Peace was very well received by both critics and fans and was responsible for bringing Megadeth to the attention of a mainstream metal audience, and it is considered one of the most influential heavy metal albums of all time. The album was nominated for Best Metal Performance at the 33rd Grammy Awards, and "Hangar 18" was nominated for the same award at the 34th Grammy Awards. Allmusic described the record as "easily Megadeth's strongest musical effort", and it was noted as one of 1001 Albums You Must Hear Before You Die.
A remixed and remastered version, featuring several bonus tracks, was released in 2004. A limited edition 180g LP using the original mix was issued in the U.S. in 2008 by Capitol Records. In addition, in January 2010, the band announced that they would be doing a North American tour to commemorate the album's 20th anniversary. They performed the whole album live, including three tracks that had never previously been performed live, "Five Magics", "Poison Was the Cure", and "Rust in Peace... Polaris". Their performance at the Hollywood Palladium was filmed and released as Rust in Peace Live later that year.
Track listing
Edit
"Holy Wars... The Punishment Due" - 6:32
"Hangar 18" - 5:11
"Take No Prisoners" - 3:27
"Five Magics" - 5:39
"Poison Was the Cure" - 2:56
"Lucretia" - 3:56
"Tornado of Souls" - 5:19
"Dawn Patrol" - 1:51
"Rust in Peace... Polaris" - 5:44
Personnel
Edit
Megadeth

Production

Produced by Dave Mustaine and Mike Clink
Recording and engineering by Micajah Ryan and Mike Clink
Assistant Recording Engineering by Andy Udoff
Mixed by Max Norman
Additional demo recording by Chris Poland
Artwork and cover by Ed Repka

2004 Remix and Remaster

Produced by Dave Mustaine
Mixed by Ralph Patlan and Dave Mustaine
Engineered by Ralph Patlan with Lance Dean
Edited by Lance Dean with Scott "Sarge" Harrison
Mastered by Tom Baker
Ad blocker interference detected!
Wikia is a free-to-use site that makes money from advertising. We have a modified experience for viewers using ad blockers

Wikia is not accessible if you've made further modifications. Remove the custom ad blocker rule(s) and the page will load as expected.