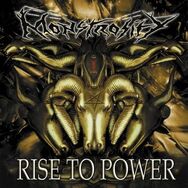 Rise to Power is the fourth studio album by American death metal band Monstrosity. The album was recorded at Audio Hammer studios in Sanford, Florida, with engineer Jason Suecof and was released on September 23, 2003, via Conquest Music.
During the tour in promotion of Rise to Power, Monstrosity headlined the Rock Al Parque festival in Bogotá, Colombia, and performed in front of 80,000 people.
Background
Edit
Following an unsuccessful planned Mexican tour, which was initially scheduled for early December 2001 and rescheduled for early 2002 as a result of Sepultura's Mexican dates coinciding with the original trek, Monstrosity began to record their fourth studio album at Morrisound Studios in early 2002. However, due to the band's heavy touring schedule, the recording of the follow-up to the compilation album Enslaving the Masses was pushed back to April 2002.
Track listing
Edit
"The Exordium" - 3:16
"Awaiting Armageddon" - 3:43
"Wave of Annihilation" - 3:47
"The Fall of Eden" - 2:09
"Chemical Reaction" - 4:14
"A Casket for the Soul" - 4:31
"Rise to Power" - 4:14
"Visions of Violence" - 3:42
"From Wrath to Ruin" - 3:45
"Abysmal Gods" - 2:29
"Shadow of Obliteration" - 12:03
Personnel
Edit
Monstrosity
Tony Norman – guitar, assistant engineer
Jason Avery – vocals
Sam Molina – guitar, backing vocals on "Rise to Power"
Mark English – guitar solo on "Rise to Power"
Lee Harrison – drums, producer, graphic design, assistant engineer
Production
Scott Matthews – photography
Kelly Milliman – photography
Montrosity – producer
Jason Suecof – engineer, guitar solo on "A Casket for the Soul"
Tom Morris – mastering
Mike Poggione – bass guitar
John Snead – drum technician
Jacek Wisniewski – cover art
Ad blocker interference detected!
Wikia is a free-to-use site that makes money from advertising. We have a modified experience for viewers using ad blockers

Wikia is not accessible if you've made further modifications. Remove the custom ad blocker rule(s) and the page will load as expected.