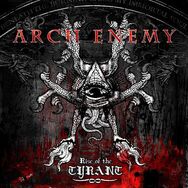 Rise of the Tyrant is the seventh album by the melodic death metal band Arch Enemy, produced by Fredrik Nordström, and was released on September 24, 2007.
Vocalist Angela Gossow told the band's website that:
"I experimented quite a bit with doubling vocal lines on the last album, which I now feel kind of took personality and vocal attack away. So this time it's the classic, one-vocal-track, no-frills, no-effects approach.

I put a lot of work and emotions into the lyrics, some of them actually made me cry, most of them made me very, very angry. They deal with the pain and losses we cause each other. To balance these gloomy themes out, we managed to write some lyrics in the vein of 'We Will Rise' — you know, fight songs! There is not only suffering and injustice in this world, but also hope, love and friendship.
Guitarist Michael Amott described it as:
"...the ultimate Arch Enemy album!!! To me, this album sounds like the perfect mix of melody and brutality. This album is an organic and honest statement from the band — it's pure fucking metal at its absolute best, the Arch Enemy way! Producer Fredrik Nordström did a killer mix on the record — the sound is big and intense!
Rise of the Tyrant debuted at number 84 on the Billboard 200, selling around 8,900 copies. This surpasses Doomsday Machine, making it the band's highest-charting effort yet.
Track listing
Edit
"Blood on Your Hands" - 4:41
"The Last Enemy" - 4:15
"I Will Live Again" - 3:32
"In This Shallow Grave" - 4:54
"Revolution Begins" - 4:11
"Rise of the Tyrant" - 4:33
"The Day You Died" - 4:52
"Intermezzo Liberté" (instrumental) - 2:51
"Night Falls Fast" - 3:18
"The Great Darkness" - 4:46
"Vultures" - 6:35
Personnel
Edit
Arch Enemy
Production
Produced by Fredrik Nordström and Michael Amott; co-produced by Daniel Erlandsson
Mixed by Fredrik Nordström
Engineered by Patrik J. Sten
Mastered by Peter In De Betou
All music arranged by Michael Amott and Daniel Erlandsson. Drum arrangements by Daniel Erlandsson. Vocal arrangements by Angela Gossow. Additional arrangements by Arch Enemy.
Artwork by Niklas Sundin
Ad blocker interference detected!
Wikia is a free-to-use site that makes money from advertising. We have a modified experience for viewers using ad blockers

Wikia is not accessible if you've made further modifications. Remove the custom ad blocker rule(s) and the page will load as expected.