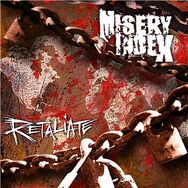 Retaliate is the debut album by American Death metal band Misery Index.
Track 5 was previously recorded and released on a Split with Structure of Lies. Track 11 was origianlly recorded by Brutal Truth for their 1992 album Extreme Conditions Demand Extreme Responses. It's Label is Nuclear Blast America and was released August 24, 2003 it was recorded March 29, 2003 - April 18, 2003 and it was 35:09 long.
Track listing
Edit
"Retaliate" – 3:28
"The Lies That Bind" – 2:46
"The Great Depression" – 2:40
"Angst Isst Die Seele Auf" – 4:16
"Demand the Impossible" – 4:29
"Order Upheld/Dissent Dissolved" – 2:21
"Servants of Progress" – 2:15
"The Unbridgeable Chasm" – 3:28
"Bottom Feeders" – 2:06
"History Is Rotten" – 3:31
"Birth of Ignorance" (Brutal Truth cover) – 3:49
Personnel
Edit
Misery Index
Jason Netherton - Vocals, Bass
John "Sparky" Voyles - Guitars
Matt Byers - Drums
Guest
Maurizio Iacono - Vocals on "Demand the Impossible"
Production
Pierre Rémillard - Engineering
Jean-François Dagenais - Producer, Engineering, Mixing
Bernard Belley - Mastering
Mike Harrison - Layout
Tim Finn - Photography
Ad blocker interference detected!
Wikia is a free-to-use site that makes money from advertising. We have a modified experience for viewers using ad blockers

Wikia is not accessible if you've made further modifications. Remove the custom ad blocker rule(s) and the page will load as expected.