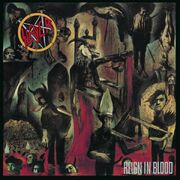 Reign in blood is the second studio album by American thrash metal band Slayer. It has been very well received by fans, and critics; and is often considered Slayer's best album as well as one of the greatest heavy metal albums of all-time. The album was released in October 7, 1986 via Def Jam Recordings.
Track listing
Edit
"Angel of Death" - 3:51
"Piece by Piece" - 2:03
"Necrophobic" - 1:40
"Altar of Sacrifice" - 2:49
"Jesus Saves" - 2:53
"Criminally Insane" - 2:23
"Reborn" - 2:12
"Epidemic" - 2:23
"Postmortem" - 2:27
"Raining Blood" - 4:17
Personnel
Edit
Ad blocker interference detected!
Wikia is a free-to-use site that makes money from advertising. We have a modified experience for viewers using ad blockers

Wikia is not accessible if you've made further modifications. Remove the custom ad blocker rule(s) and the page will load as expected.