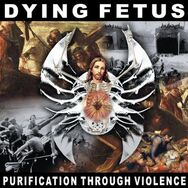 Purification Through Violence is the first full-length album by the death metal band Dying Fetus, following Infatuation with Malevolence, a collection of early demos. It was released in 1996.
The band left Pulverizer Records shortly after the album's release.
Track listing
Edit
"Blunt Force Trauma" - 5:26
"Beaten into Submission" - 2:50
"Skull Fucked" - 2:55
"Permanently Disfigured" - 3:25
"Raped on the Altar" - 3:55
"Nothing Left to Pray For" - 3:55
"Nocturnal Crucifixion" - 3:23
"Skum (Fuck the Weak)" (Napalm Death cover) - 2:53
Purification Through Violence was reissued in January 2011 by Relapse, with the bonus tracks "Beaten into Submission" (1997 rehearsal demo) and "Raped on the Altar" (live in Herbolzheim, Germany, 1998).
John Gallagher - guitars, vocals
Jason Netherton - bass guitar, vocals
Brian Latta - guitars
Rob Belton - drums
Ad blocker interference detected!
Wikia is a free-to-use site that makes money from advertising. We have a modified experience for viewers using ad blockers

Wikia is not accessible if you've made further modifications. Remove the custom ad blocker rule(s) and the page will load as expected.