Ad blocker interference detected!
Wikia is a free-to-use site that makes money from advertising. We have a modified experience for viewers using ad blockers

Wikia is not accessible if you've made further modifications. Remove the custom ad blocker rule(s) and the page will load as expected.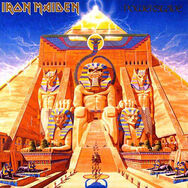 Powerslave is the fifth studio album by the English heavy metal band Iron Maiden, released on 3 September 1984 on EMI in Europe and its sister label Capitol Records in the US (it was re-released by Sanctuary/Columbia Records in the US in 2002).
It is notable for its Ancient Egyptian theme displayed in the cover artwork, lifted from the title track, which was carried over to the album's supporting tour. The World Slavery Tour began in Warsaw, Poland on 9 August 1984, and is widely regarded as being the band's longest and most arduous to date, as well as leading to the live album, Live After Death.
The release also contains a musical re-telling of Samuel Taylor Coleridge's "The Rime of the Ancient Mariner", which uses pieces of the original poem as lyrics and is, furthermore, Iron Maiden's longest song to date (at 13 minutes and 34 seconds in length).
Powerslave is also notable as being the band's first album to feature the same lineup as the previous one, which would remain intact for two further studio releases.
"2 Minutes to Midnight" and "Aces High" were released as singles.
Track listing
Edit
"Aces High" - 4:29
"2 Minutes to Midnight" - 6:00
"Losfer Words (Big 'Orra)" (Instrumental) - 4:13
"Flash of the Blade" - 4:03
"The Duellists" - 6:06
"Back in the Village" (5:20 on the 1998 reissue) - 5:03
"Powerslave" (6:48 on the 1998 reissue) - 7:12
"Rime of the Ancient Mariner" - 13:34
Personnel
Edit
with
Martin Birch – producer, engineer
Frank Gibson – assistant engineer
George Marino – mastering
Simon Heyworth – remastering
Derek Riggs – artwork, design, sleeve design, sleeve idea, sleeve illustration
Rod Smallwood – design, sleeve design, sleeve idea
Ross Halfin – photography
Moshe Brakha – photography