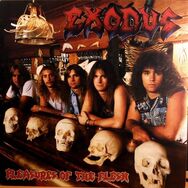 Pleasures of the Flesh is the second album by American thrash metal band Exodus, released in 1987. This is the first Exodus album to feature Steve Souza on vocals. It was remastered and re-issued by Century Media in 1998 in Europe only.
The album was to originally feature cover art with an illustration of the band depicted as cannibals preparing and eating their meal. However the cover was replaced with a photo of the band members leaning on a bar prior to release. The original cover was promoted by the record company in music magazines just prior to its release with the headline of "Metal's Heaviest Meal". The original cover was also available as a limited edition picture disc LP. There are several demos of songs from the album with their former singer Paul Baloff circulating on the internet.
Track listing
Edit
"Deranged" - 3:46
"'Til Death Do Us Part" - 4:50
"Parasite" - 4:55
"Brain Dead" - 4:15
"Faster Than You'll Ever Live To Be" - 4:26
"Pleasures of the Flesh" - 7:37
"30 Seconds" - 0:40
"Seeds of Hate" - 4:57
"Chemi-Kill" - 5:46
"Choose Your Weapon" - 4:52
Personnel
Edit
Ad blocker interference detected!
Wikia is a free-to-use site that makes money from advertising. We have a modified experience for viewers using ad blockers

Wikia is not accessible if you've made further modifications. Remove the custom ad blocker rule(s) and the page will load as expected.