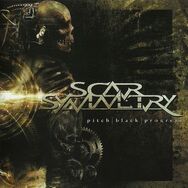 Pitch Black Progress is the second studio album by Swedish melodic death metal band, Scar Symmetry. The album was released in Europe on May 19, 2006 and in North America on May 23, 2006 through Nuclear Blast.
Pitch Black Progress was recorded, mixed and mastered at Black Lounge studios, Avesta, Sweden, on various occasions during 2005, by Jonas Kjellgren. The albums artwork and layout was created by Anthony Clarkson. Allmusic praised the album's 'uncompromisingly extreme hard-soft dynamics and accompanying, remarkably accessible sing-and-grunt-along choruses'.
Track listing
Edit
"The Illusionist" - 4:31
"Slaves to the Subliminal" - 5:04
"Mind Machine" - 3:54
"Pitch Black Progress" - 3:26
"Calculate the Apocalypse" - 4:01
"Dreaming 24/7" - 4:11
"Abstracted" - 3:25
"The Kaleidoscopic God" - 7:09
"Retaliator" - 4:13
"Oscillation Point" - 4:04
"The Path of Least Resistance" - 4:29
Personnel
Edit
Scar Symmetry
Per Nilsson – lead and rhythm guitar, keyboards
Kenneth Seil – bass guitar
Henrik Ohlsson – drums & Lyrics
Ad blocker interference detected!
Wikia is a free-to-use site that makes money from advertising. We have a modified experience for viewers using ad blockers

Wikia is not accessible if you've made further modifications. Remove the custom ad blocker rule(s) and the page will load as expected.