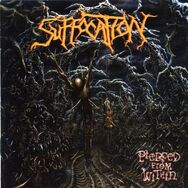 Pierced from Within is the fourth studio album released in 1995 by the technical death metal band Suffocation. "Synthetically Revived" is a re-recording of the song of the same name from the Human Waste and "Breeding the Spawn" is a re-recording of the title track from the band's previous album.
Both this album and Effigy of the Forgotten have been re-released by Roadrunner Records as part of the Two from the Vault series.
Track listing
Edit
"Pierced from Within" - 4:26
"Thrones of Blood" - 5:14
"Depths of Depravity" - 5:33
"Suspended in Tribulation" - 6:31
"Torn into Enthrallment" - 5:25
"The Invoking" - 4:36
"Synthetically Revived" - 3:53
"Brood of Hatred" - 4:36
"Breeding the Spawn" - 5:09
Personnel
Edit
Suffocation
Production
Guest co-lyrics for "Torn into Enthrallment" by Lee Harrison (Monstrosity)
Produced by Scott Burns & Suffocation
Engineered and mixed by Scott Burns
Assistant engineer: Dave Welner
Recorded and mixed at Morrisound Recording, Tampa, FL, USA
Mastered by Mike Fuller at Fullersound, Miami, FL, USA
Cover Art: Hiro Takahashi
Ad blocker interference detected!
Wikia is a free-to-use site that makes money from advertising. We have a modified experience for viewers using ad blockers

Wikia is not accessible if you've made further modifications. Remove the custom ad blocker rule(s) and the page will load as expected.