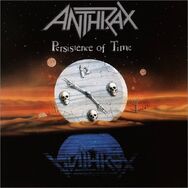 Persistence of Time is the fifth studio album by the American heavy metal band Anthrax. It was released on August 21, 1990 through Megaforce Worldwide/Island Records. In 1991 the album was nominated for a Grammy Award in the category Best Metal Performance.
The album includes the singles, "Got the Time" (a Joe Jackson cover) and "In My World" (which was performed by the band on the Married... with Children episode, My Dinner with Anthrax). This was the last album to feature Joey Belladonna on vocals until 2011's Worship Music
Album information
Edit
Anthrax returned to the studio in the fall of 1989 with Mark Dodson (who produced the previous album, State of Euphoria) to start work on their fifth album. Recording of the album was difficult, with a large structure fire causing the band to lose more than $100,000 worth of gear and their recording studio in January 1990. Following their personal disaster the band moved to a different studio in late February of that year to finish work on the album.
The album's tone is decidedly more serious and mature than on prior Anthrax albums. Eschewing the humor and comic book references in prior albums, the lyrical focus of Persistence of Time is the need for tolerance and peace. The band also introduced a progressive side of the music which they hadn't tried earlier.
This is the last studio album to feature Joey Belladonna on vocals until his return to Anthrax in 2010 and the following album Worship Music released in 2011.
The introduction to the song "Intro to Reality" featured dialogue from an episode of The Twilight Zone called "Deaths-Head Revisited".
Keep It in the Family, In My World, and Belly of the Beast were later re-recorded with the John Bush/Rob Caggiano lineup for the album The Greater of Two Evils.
Track listing
Edit
"Time" - 6:55
"Blood" - 7:13
"Keep It in the Family" - 7:08
"In My World" - 6:25
"Gridlock" - 5:17
"Intro to Reality" - 3:23
"Belly of the Beast" - 4:47
"Got the Time" - 2:44
"H8 Red" - 5:04
"One Man Stands" - 5:38
"Discharge" - 4:12
Personnel
Edit
Ad blocker interference detected!
Wikia is a free-to-use site that makes money from advertising. We have a modified experience for viewers using ad blockers

Wikia is not accessible if you've made further modifications. Remove the custom ad blocker rule(s) and the page will load as expected.