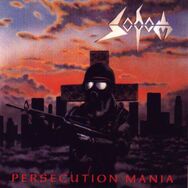 Persecution Mania is the second album by Sodom. The album marked a drastic change of sound from proto-black metal to thrash metal. As well as defining Sodom's sound, it exemplified the thrash metal genre at a time when it arguably peaked in popularity. The album also bore similarity to the music of other German bands such as Destruction and Kreator, and the term "Teutonic" thrash was coined from this.
Despite what the cover may imply, the lyrical themes of the album are centred more around politics and war than religion. This is largely due to guitarist Frank "Blackfire" Godznik joining the band. He brought new songwriting aspects to the band that gave it a much more organized and clearer sound, as well as helping Sodom to carve a lyrical niche that it still practices to this day. The outro guitar lead in track 9, "Bombenhagel", is the German national anthem, "Das Lied der Deutschen".
Persecution Mania was re-released in 2000 as part of a double pack with the Obsessed by Cruelty/In the Sign of Evil split. Both CD releases include the Expurse of Sodomy EP.
Track listing
Edit
"Nuclear Winter" – 5:26
"Electrocution" – 3:26
"Iron Fist" – 2:45 (Motörhead Cover)
"Persecution Mania" – 3:40
"Enchanted Land" – 4:01
"Procession to Golgotha" – 2:01
"Christ Passion" – 6:13
"Conjuration" – 3:44
"Bombenhagel" – 5:11
The European CD release (Cat.-No. SPV 85-7509) has a rerecording of "Outbreak of Evil" and the Expurse of Sodomy EP as bonus tracks:
"Outbreak of Evil" (3:32)
"Sodomy & Lust" (5:14)
"The Conqueror" (3:29)
"My Atonement" (6:05)
The cassette has only the rerecorded "Outbreak of Evil" as a bonus track.
Personnel
Edit
Tom Angelripper - vocals/bass guitar
Frank Blackfire - guitars
Chris Witchhunter - drums
Ad blocker interference detected!
Wikia is a free-to-use site that makes money from advertising. We have a modified experience for viewers using ad blockers

Wikia is not accessible if you've made further modifications. Remove the custom ad blocker rule(s) and the page will load as expected.