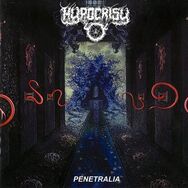 Penetralia is the debut studio album by Swedish melodic death metal band Hypocrisy. The album was released on October 13, 1992.
Track listing
Edit
"Impotent God" - 3:49
"Suffering Souls" - 3:27
"Nightmare" - 4:29
"Jesus Fall" - 3:28
"God is a Lie" - 2:59
"Left to Rot" - 3:34
"Burn by the Cross" - 4:47
"To Escape is to Die" - 3:54
"Take the Throne" - 5:21
"Penetralia" - 6:34
"God is a Lie" is sometimes called "God is a..." on the back cover.
Personnel
Edit
Hypocrisy
Guest
Ad blocker interference detected!
Wikia is a free-to-use site that makes money from advertising. We have a modified experience for viewers using ad blockers

Wikia is not accessible if you've made further modifications. Remove the custom ad blocker rule(s) and the page will load as expected.