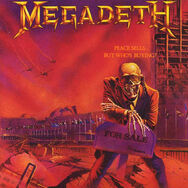 Peace Sells... But Who's Buying? is the second studio album by the American heavy metal band Megadeth. It was released in September 1986. Originally, the project was handled by Combat Records, and this resulted in the first mix of the album. Eventually Capitol Records bought the rights to the album and a producer was hired to mix it himself. It was remixed and remastered in 2004 by Dave Mustaine. In 2011, the three different versions were released as part of the album's 25th anniversary celebration. All of them, excepting the 2004 mixes, feature new remastering.
It has been listed as one of the 1001 Albums You Must Hear Before You Die and is highly regarded as a thrash metal classic. It is the last album to feature Gar Samuelson on drums, and the last album until The System Has Failed to feature Chris Poland on lead guitar.
Track listing
Edit
"Wake Up Dead" - 3:37
"The Conjuring" - 5:02
"Peace Sells" - 4:02
"Devil's Island" - 5:05
"Good Mourning/Black Friday" - 6:39
"Bad Omen" - 4:03
"I Ain't Superstitious" - 2:45
"My Last Words" - 4:55
Personnel
Edit
Megadeth

Additional vocals

Tracks 1, 4, and 9: Dave Mustaine, David Ellefson, Mike Anderson, Paul Sudin
Tracks 5, 8, and 12: Dave Mustaine, Casey McMackin, Randy Burns

Production

Produced by Dave Mustaine and Randy Burns
Engineered by Casey McMackin and Randy Burns
Mixed by Paul Lani with Stan Katayama
Album design and cover illustration by Edward J. Repka
Cover concept by Dave Mustaine and Andy Somers

2004 Remix and Remaster

Produced by Dave Mustaine
Mixed by Ralph Patlan and Dave Mustaine
Engineered by Ralph Patlan with Lance Dean
Edited by Lance Dean with Scott "Sarge" Harrison
Mastered by Tom Baker

Previously unreleased 1987 concert

Produced by Dave Mustaine
Mixed by Ken Eisennagel and Dave Mustaine. Mar-Apr 2011
Assistant Engineering by Zachary Coleman
Recorded live at the Phantasy Theatre. Cleveland. OH, 6/3/87
Mastered by Evren Gknar, Capitol Mastering, Hollywood, CA. April 2011
Ad blocker interference detected!
Wikia is a free-to-use site that makes money from advertising. We have a modified experience for viewers using ad blockers

Wikia is not accessible if you've made further modifications. Remove the custom ad blocker rule(s) and the page will load as expected.