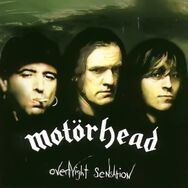 Overnight Sensation, released in 1996, is the thirteenth studio album by the British band Motörhead.
Following the departure of Würzel in 1995, the band returned to the same three man formula as "the classic Motörhead line up"; Bass Guitar/Vocals, Lead Guitar and Drums. This album is also the first, since Ace of Spades, to have a picture of the band on the cover. Despite being only a three piece, the band have a heavier style on this work than on their last album, Sacrifice.
Lemmy recalls that amidst the touring, the record took about four weeks writing and four weeks in the studio. Lemmy talked about the return to being a three piece:
...it went the same as a four-piece except one guy wasn't there! Or the same as the Everly Brothers plus one. It was a bit more fraught, but that was just because Phil, being the only guitarist, felt that there was a lot riding on his shoulders (which there was). So he was under added pressure, but he proved himself well. Overnight Sensation is a great album for him. Mikkey was his usual perfect self - he always finishes his drums tracks well ahead of schedule. This time around he did them in one day.
Overnight Sensation
was the band's first official record for CMC —
Sacrifice
was already partly in the States on import but the label proved itself with
Overnight Sensation
and it became the best-distributed record the band had for some time.
Track listing
Edit
All songs written by Phil Campbell, Lemmy, and Mikkey Dee, except where noted
"Civil War" (Campbell, Lemmy, Dee, Max Ax) – 3:01
"Crazy Like a Fox" – 4:32
"I Don't Believe a Word" – 6:31
"Eat the Gun" – 2:13
"Overnight Sensation" – 4:10
"Love Can't Buy You Money" – 3:06
"Broken" – 4:34
"Them Not Me" – 2:47
"Murder Show" – 3:03
"Shake the World" – 3:29
"Listen to Your Heart" (Lemmy) – 3:45
Personnel
Edit
Motörhead
Production
Recorded at Ocean Studio and Track House Recording Studio
Produced by Howard Benson and Duane Barron
Co-produced by Ryan Dorn and Motörhead
Mixed by Ryan Dorn and Duane Barron
Assistant engineered by James Ornelas, Evan Levy, and Duane Barron
Mixed at The Gallery
Mastered at Digiprep by Dan Hersch
Cover photo by Annamaria DiSanto
Ad blocker interference detected!
Wikia is a free-to-use site that makes money from advertising. We have a modified experience for viewers using ad blockers

Wikia is not accessible if you've made further modifications. Remove the custom ad blocker rule(s) and the page will load as expected.