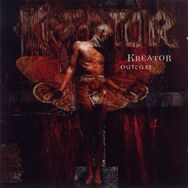 Outcast is the eighth studio album by German thrash metal band Kreator. It was released by G.U.N. Records in 1997. This album featured more gothic rock and industrial influences than earlier Kreator, retaining little of thrash metal from previous years.
Track listing
Edit
"Leave This World Behind" - 3:29
"Phobia" - 3:22
"Forever" - 2:52
"Black Sunrise" - 4:33
"Nonconformist" - 3:15
"Enemy Unseen" - 3:21
"Outcast" - 4:54
"Stronger than Before" - 3:17
"Ruin of Life" - 3:53
"Whatever It May Take" - 3:47
"Alive Again" - 3:47
"Against the Rest" - 2:39
"A Better Tomorrow" - 4:13
"As We Watch the West" (Japanese bonus track)
Personnel
Edit
Mille Petrozza - Guitar, Vocals, Programming
Jürgen Reil - Drums, Programming
Christian Giesler - Bass guitar
Thomas Vetterli - Guitar, Programming
Vincent Wojno - Producer, Engineer
Kreator - Producer
Vincent Sorg - Programming
Harald Hoffmann - Photography
Dirk Rudolph - Sleeve design
Christian Loenhoff - Woodblock
Guido Eickelmann - Programming
Recorded at Principal Studios, Münster, Germany by Vincent Wojno and Britta Kühlmann . Assisted by Vincent Sorg, Jörg Umbreit and Sascha Kramski. Mixed at Wisseloord Studios, Hilversum, the Netherlands by Ronald Prent. Assisted by Joerg Steinfadt.
Many editions of the Noise/Sanctuary Records re-issue has a factory error with the artwork. The printing on the back insert behind the disc contains the same artwork as the insert for Kreator's album Cause for Conflict.
Ad blocker interference detected!
Wikia is a free-to-use site that makes money from advertising. We have a modified experience for viewers using ad blockers

Wikia is not accessible if you've made further modifications. Remove the custom ad blocker rule(s) and the page will load as expected.