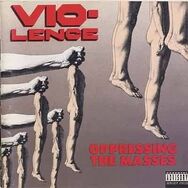 Oppressing the Masses is second album recorded by the San Francisco Bay Area thrash band Vio-lence. It was released originally in 1990 on Megaforce Records.
The original print (20,000) contained the song "Torture Tactics," but all copies were destroyed because of Atlantic's objection to the lyrical content.
The re-release version contains the tracks from "Torture Tactics" EP.
Megaforce/Atlantic reportedly destroyed 25,000 copies of the CD which contained the song "Torture Tactics"; the song can be found on promotional advance cassettes but as of 2009 a finished original CD containing this song has yet to surface.
Track listing
Edit
Side one
"I Profit" - 7:04
"Officer Nice" - 5:23
"Subterfuge" - 4:38
"Engulfed by Flames" - 3:55
Side two
"World in a World" - 4:11
"Mentally Afflicted" - 5:49
"Liquid Courage" - 5:27
"Oppressing the Masses" - 4:58
Personnel
Edit
Ad blocker interference detected!
Wikia is a free-to-use site that makes money from advertising. We have a modified experience for viewers using ad blockers

Wikia is not accessible if you've made further modifications. Remove the custom ad blocker rule(s) and the page will load as expected.