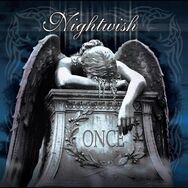 Once is the fifth studio album by Finnish symphonic metal band Nightwish, released on June 7, 2004 by Nuclear Blast and on November 24 by Spinefarm, with the US release on October 5 by Roadrunner Records. In an interview, Tuomas Holopainen (main song writer of the band) said that it is up to the listener to find out the meaning of the title Once. Every name has a meaning — though, he doesn't feel comfortable talking about it. This is the last of the Nightwish studio albums to feature vocals by Tarja Turunen.
Track listing
Edit
"Dark Chest of Wonders" - 4:29
"Wish I Had an Angel" (second single) - 4:06
"Nemo" (first single) - 4:36
"Planet Hell" - 4:39
"Creek Mary's Blood" (feat. John Two-Hawks) - 8:30
"The Siren" (fourth single) - 4:45
"Dead Gardens" (feat. Jouni Hynynen) - 4:28
"Romanticide" - 4:58
"Ghost Love Score" - 10:02
"Kuolema Tekee Taiteilijan" (Finnish for Death Makes an Artist) - 3:59
"Higher than Hope" (in memory of Marc Brueland) - 5:35
"White Night Fantasy" (US bonus track - originally found on the "Nemo" single) - 4:05
"Live To Tell The Tale" (US & Platinum Edition bonus track - originally found on the "Nemo" single) - 5:02
"Where Were You Last Night" (Platinum Edition bonus track - originally found on the "Wish I Had An Angel" single - Ankie Bagger cover) - 3:52
Personnel
Edit
Nightwish

Edit

Main crew

Edit

Tero Kinnunen- Sound engineer
Mikko Karmila - Mixing
Mika Jussila - Mastering engineer
Pip Williams - Choir and orchestral arrangements
Markus Mayer - Cover Artwork
Toni Härkönen - Photographies
Petteri Tyynelä - Layout
Ad blocker interference detected!
Wikia is a free-to-use site that makes money from advertising. We have a modified experience for viewers using ad blockers

Wikia is not accessible if you've made further modifications. Remove the custom ad blocker rule(s) and the page will load as expected.