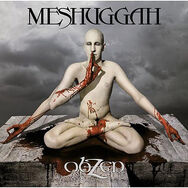 obZen is the eleventh studio album by Swedish band Meshuggah. It was released in Europe on March 7, 2008, and in the U.S. on May 27, 2008. It contains nine tracks, and a total length of 52 minutes and 25 seconds. Tomas Haake makes his return as the studio drummer for the record after Drumkit from Hell was used on Catch Thirtythree. The album debuted at number 59 in the USA with first week sales of 11,384 copies. In Sweden, the album entered the official album chart at number 16, and in the UK at number 151. A video was filmed for a shorter version of the song "Bleed".
The release of the album was followed by their first world tour.
By September 19, 2008, obZen had sold over 50,000 copies in the U.S.
The song "Bleed" was released as DLC for the Rock Band video games via the Rock Band Network on June 18, 2010.
Track listing
Edit
"Combustion" - 4:08
"Electric Red" - 5:51
"Bleed" - 7:22
"Lethargica" - 5:47
"obZen" - 5:25
"This Spiteful Snake" - 5:53
"Pineal Gland Optics" - 5:13
"Pravus" - 7:10
"Dancers to a Discordant System" - 9:45
Personnel
Edit
Ad blocker interference detected!
Wikia is a free-to-use site that makes money from advertising. We have a modified experience for viewers using ad blockers

Wikia is not accessible if you've made further modifications. Remove the custom ad blocker rule(s) and the page will load as expected.