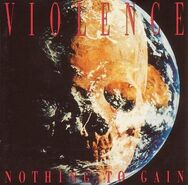 Nothing To Gain is the third full-length album recorded by the San Francisco Bay Area thrash metal band Vio-lence. The album was recorded in August 1990, but it wasn't released until 1993. By then Robb had already left the band and been replaced by Ray Vegas. Nothing To Gain was re-released in 1999 with a different cover.
There were two additional songs recorded during the albums sessions ("All Good Dies" and "Put Them In"), which did not make the final album and which still remain unreleased.
Track listing
Edit
"Atrocity" - 5:02
"Twelve Gauge Justice" - 4:47
"Ageless Eyes" - 4:10
"Pain Of Pleasure / Virtues Of Vice" - 5:46
"Killing My Words" - 4:22
"Psychotic Memories" - 5:24
"No Chains" - 5:03
"Welcoming Party / This Is System" - 6:55
"Colour Of Life" - 3:40
Personnel
Edit
Sean Killian - vocals
Phil Demmel - guitar
Robb Flynn - guitar
Dean Dell - bass
Perry Strickland - drums
Ad blocker interference detected!
Wikia is a free-to-use site that makes money from advertising. We have a modified experience for viewers using ad blockers

Wikia is not accessible if you've made further modifications. Remove the custom ad blocker rule(s) and the page will load as expected.